Bioskin Junior Sprej
39.00KM – 79.00KM
Naš Bioskin Junior sprej je hranjivi sprej ispunjen prirodnim uljima i ekstraktima sa dokazanom sposobnošću da duboko njeguje i hidratizira suhu i osjetljivu kožu. Brzo i lako se apsorbuje, prodire duboko u kožu, hrani i ubrzava rast novih stanica. Pomaže kod oporavka oštećenih stanica i čini površinski sloj zdravijim i otpornijim. Hranjivi sprej može se koristiti na bilo kojem dijelu tijela i odmah smiruje svrabež i nelagodu. Jednostavno i brzo se nanosi i brzo se upija što je velika prednost kada su u pitanju djeca, kako bi se što brže mogla vratiti svojim aktivnostima i igri. S vučjim trnom za hranjenje i regeneraciju stanica, lavandom koja smiruje i vraća prirodnu ravnotežu stanicama i ružmarinom koji ima sposobnost da podupre razvoj kolagena i eliminiše slobodne radikale. Naši revolucionarni sprejevi i kreme tokom proteklih 10 godina pokazali su da pomažu koži kada joj je to najpotrebnije. Bioskin Junior linija je postala dio našeg asortimana prije više od 3 godine, nakon povećane potražnje roditelja za dječiju verziju našeg Bioskin Derma spreja i Zeoderm kreme. Bioskin Junior sprej je prikladan za djecu koja su sklona ekcemima, alergijama, dermatitisu, psorijazi, osipu i crvenilu.
KOJE SU PREDNOSTI SPREJA?
Suha koža može oštetiti zaštitnu membranu kože, a dok tradicionalne kreme i omekšivači mogu pomoći u tim problemima stvaranjem umjetne barijere, Bioskin Derma sprej funkcioniše drugačije. Lako i brzo se apsorbuje, tekućina spreja prodire duboko kako bi djelovala na novonastale stanice i potiče nastanak zdrave kože dok se ona razvija.
Nema potrebe dodatno utrljavati sprej, što je olakšanje kada je koža vrlo bolna i čini primjenu vrlo jednostavnom, a posebno kada su nestašna djeca u pitanju.
OPIS PROIZVODA
Bioskin Junior sprej je proizvod iz Bioskin Junior linije namijenjen djeci i bebama od 3 mjeseca života sa vrlo suhom kožom. Prodire duboko u kožu kako bi hranio i ubrzao rast novih stanica, pomažući koži da se oporavi i stvori vlastitu prirodnu zaštitnu barijeru. Brzo se i lako apsorbuje, što čini nanošenje ugodnijim za vaše dijete. Upotrijebite Bioskin Junior sprej kada je koža vašeg djeteta vrlo suha i oštećena. To će pomoći ublažiti simptome i crvenilo, dok sprej radi na formiranju novih stanica kože za dugotrajno zdravlje. Sprej ne sadrži steroide, parafin, natrijev lauril sulfat i natrij sulfat, paraben, vazelin, dietanolamine, ftalate niti sintetičke mirise.
UPUTSTVO ZA KORIŠTENJE
1. Primjenite sprej na zahvaćenim područjima 2-4 puta dnevno.
2. Lagano protresite bočicu kako biste promiješali prirodne sastojke.
3. Držite bocu od pet do deset centimetara od kože.
4. Koristite pumpu za primjenu spreja.
5. Prilikom nanošenja na lice, poprskajte sprej na vatu ili pamučnu tkaninu i nanesite ih na kožu kako biste izbjegli dodir s očima.
6. Pustite da se sprej upije i koža osuši - nema potrebe utrljavati.
7. Kod vrlo suhe kože i ozbiljnijih problema koristite Bioskin Junior kremu nakon spreja.
Sastojci
U Salcuri vjerujemo u moć prirodnih sastojaka te su naši proizvodi na prirodnoj bazi. Uz eterična ulja, vitamine, minerale i drugih hranjivih tvari Vaša koža će postati jača i zdravija. U stalnoj suradnji s timom znanstvenika stvaramo najučinkovitiju formulu koja odgovara svim tipovima kože kako bi Vam omogućili što bolju zaštitu i pomoć. Nemamo tajne. Zato možete provjeriti popis sastojaka Bioskin Junior Spreja.
Voda (Aqua), Glicerin, Ulje sjemenki suncokreta (Helianthus Annuus), Glicerolmonostearat, Fenoksietanol, Ulje pšeničnih klica (Triticum Vulgare Germ Oil), Izononil izononanoat, Ekstrakt ploda vučjeg trna (Hippophae Rhamnoides), Ekstrakt lista ružmarina (Rosmarinus Officinalis), Maslinovo ulje (Olea Eeuropaea), Boražina (Borago Officinalis), Ulje lavande (Lavandula Angustifolia), Urea, Ethylhexylglycerin, Tokoferil acetat, Caprylyl Glycol, Natrijev klorid, Cetostearilni alkohol, Aloe Vera (Aloe Barbadensis), Beta karoten, Geraniol, Limonen, Linalol.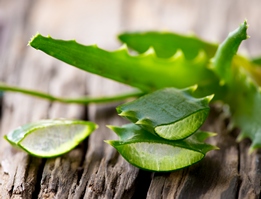 ALOE VERA – je predivna biljka sastavljena od više od 99% vode zbog čega je izvrstan hidratizator kože. Sadrži veliku raznolikost vitamina, minerala i masnih kiselina, uključujući A, 100 E, B1, B2, B3, B6 i folne kiseline, te je jedan od rijetkih biljnih izvora vitamina B12. Ona također sadrži 20 minerale uključujući cink, bakar, kalij, selen, mangana, kalcija, magnezija i željeza.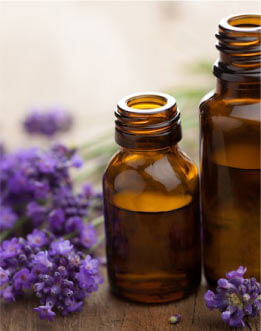 ULJE LAVANDE – Eterično ulje koje se dobiva od cvjetova ovog malog zeljastog grmlja, koristi se kao sredstvo za njegu kože i za miris.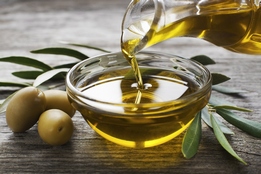 MASLINOVO ULJE – Bogato mediteransko maslinovo ulje njeguje, hidratizira i vraća grubu i suhu kožu u normalno stanje.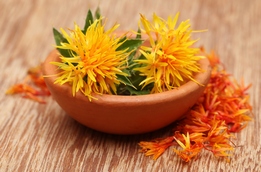 ŠAFRANIKA – Koristi se kao omekšivač kože te ju čini glatkom i mekanom. Također se koristi kao okluziv, što znači da stvara prepreku koja sprječava da se koža isušuje.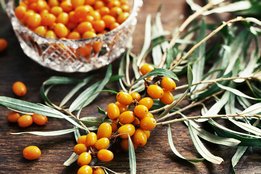 VUČJI TRN – Obilježen kao jedan od najboljih biljnih izvora bogatih masnih kiselina, uključujući omega 3, 6, 7 i 9. Omega-7 je vrlo bitan zbog svoje sposobnosti pomlađivanja kože i promicanja iscjeljivanja te služi kao izvrstan
izvor kolagena i tako dubinski hrani kožu.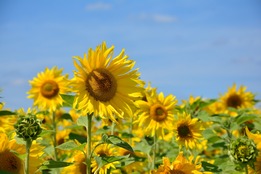 SUNCOKRET – Hidratizator kože, također se koristi kao sredstvo za njegu kože i okluzivno.